Final Project: Technology Integration Activity Development
Based on the design plan I prepared for Assignment 4, for the final project for this course I have prepared a web-based instructional activity. Because the original design plan accounted for a blended learning classroom model, I have adjusted this activity for my students to complete it solely online. I will be using the Google Classroom platform as a classroom website and will include all necessary tutorial materials, activity links, and formative self-assessment tools. Integrated technology will include: FlipGrid web-video recording tool, ESL-bits audiobook, Google slides visual aid, Powtoon visual aid, YouTube videos for tutorial information, Google Forms for assessment, and Google Classroom as a hosting platform for our classroom webpage.
My Single Learning Outcome of Focus
As discussed in Assignment 4, my learning outcomes come from the BC Curricular documents, specifically those for Literary Studies 10. The specific curricular learning outcome I will be focusing on for this lesson is "Respond to text in personal, creative, and critical ways." By the end of this activity, students will respond to a literary text (To Kill a Mockingbird) in a personal and critical way utilizing reading strategies and demonstrate the skillset in a video recorded Think Aloud through the FlipGrid online platform.
Introductory Statement
This activity is from the sample lesson created for Assignment 4.  Students would be in the process of completing a multi-week literature circle unit covering Harper Lee's To Kill a Mockingbird. For this activity, students will be read chapters 5 and share their thoughts using applied reading strategies from Kyla Hadden and Adrienne Gear's (2016) Powerful Readers: Thinking Strategies to Guide Literacy Instruction in Secondary Classrooms. Students will demonstrate these reading strategies orally through Think Alouds (Wilhelm, 2001) which will be recorded in short video segments on FlipGrid. Following the submission of the FlipGrid video, students will also complete a self-assessment on their ability to respond to a text using a rubric focusing on the reading strategies they used in their video.
Activity Instructions with Required Links
Students log onto our class webpage on Google Classroom (If you'd like to see it, you can enter using classroom code is: 4524ydh or click on the invite link here)
Students read "To Kill a Mockingbird (Chapter 5) Learning Activity" post with instructions on how to complete the activity.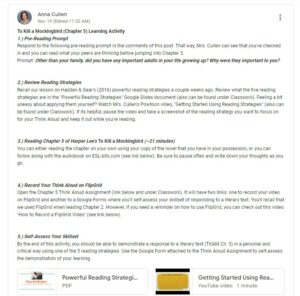 Figure 1: Post on Google Classroom Reviewing the Instructions for the Activity
Students complete the pre-reading prompt by commenting on the post with their response. Pre-reading prompt: Other than your family, did you have any important adults in your life growing up? Why were they important to you? In Chapter 5, Scout visits with their neighbor Miss Maudie, who ends up being an important influence on Scout. This is an example of making connections while we read.
Students review "Powerful Readers Reading Strategies" Google Slides PDF (This would have been covered in detail in a previous lesson) and watch YouTube video "Getting Started Using Reading Strategies" (which I created using Powtoon).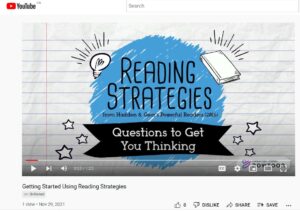 Figure 2: Screenshot of YouTube video created using Powtoon
Students read Chapter 5 (~21 minutes) on their own or listen to it on ESL-bits.com. Students are reminded to pause part way and write down their thoughts as they go to make it easier for analysis later.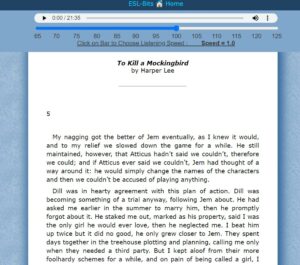 Figure 3: Screenshot from Chapter 5 of To Kill a Mockingbird on ESL-bits.com. Note that students can choose the reading speed at the top of the page.
Students go to the Chapter 5 Think Aloud Assignment posted on Google Classroom. Students review how to make a FlipGrid video using the YouTube link provided, if needed. Students record a 2-minute record demonstrating a Think Aloud (sharing their thoughts about Chapter 5 using one of the five reading strategies) and post it on FlipGrid. If you need more information (or if a student requests more information) about what a Think Aloud is, you can watch this YouTube video, "Using the Think-Aloud Strategy" to learn more.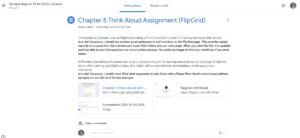 Figure 4: Google Classroom Assignment Page (student view) for Chapter 5 Think Aloud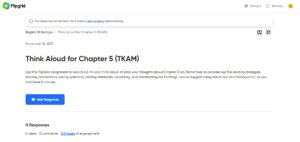 Figure 5: FlipGrid Think Aloud Assignment (Student View)
Students provide a formative self-assessment of their demonstration of the learning outcome using a Google Form (the link is also provided in the Google Classroom assignment). Once submitted, teacher will be able to provide formative feedback as well on Google Classroom.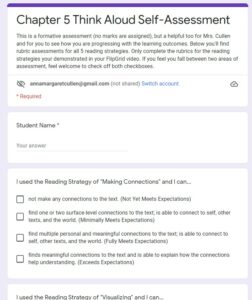 Figure 6: Formative Self-Assessment Tool using Google Forms
Thank you for a great semester everyone! I hope you find something valuable in my post that you'll be able to use in your own classrooms!
Sincerely,
Anna
References
Cullen, A. [Anna Cullen]. (2021, November 29). Getting Started Using Reading Strategies [Video]. Youtube. https://www.youtube.com/watch?v=_RFWrm8OrO4
FlipGrid. https://info.flipgrid.com/
[Fresno EdTech]. (2020, April 13). How to Record a FlipGrid [Video]. Youtube. https://www.youtube.com/watch?v=J3Y5k9vcjAU
Google Classroom. https://classroom.google.com/u/0/h
Google Slides. https://www.google.ca/slides/
Hadden, K. & Gear, A. (2016) Powerful readers: Thinking strategies to guide literacy instruction in secondary classrooms. Pembroke Publishers Ltd.
[Lakeshore Learning]. (2020, April 29). Using the Think Aloud Strategy [Video]. YouTube. https://www.youtube.com/watch?v=Jsd5Lz0l5DQ
Literary Studies 10. BC's Curriculum. https://curriculum.gov.bc.ca/curriculum/english-language-arts/10/literary-studies
To Kill a Mockingbird. ESL-bits. http://esl-bits.net/ESL.English.Learning.Audiobooks/Mockingbird/preview.html
Wilhelm, J. D. (2001). Improving Comprehension with Think-Aloud Strategies. New York: Scholastic Inc.